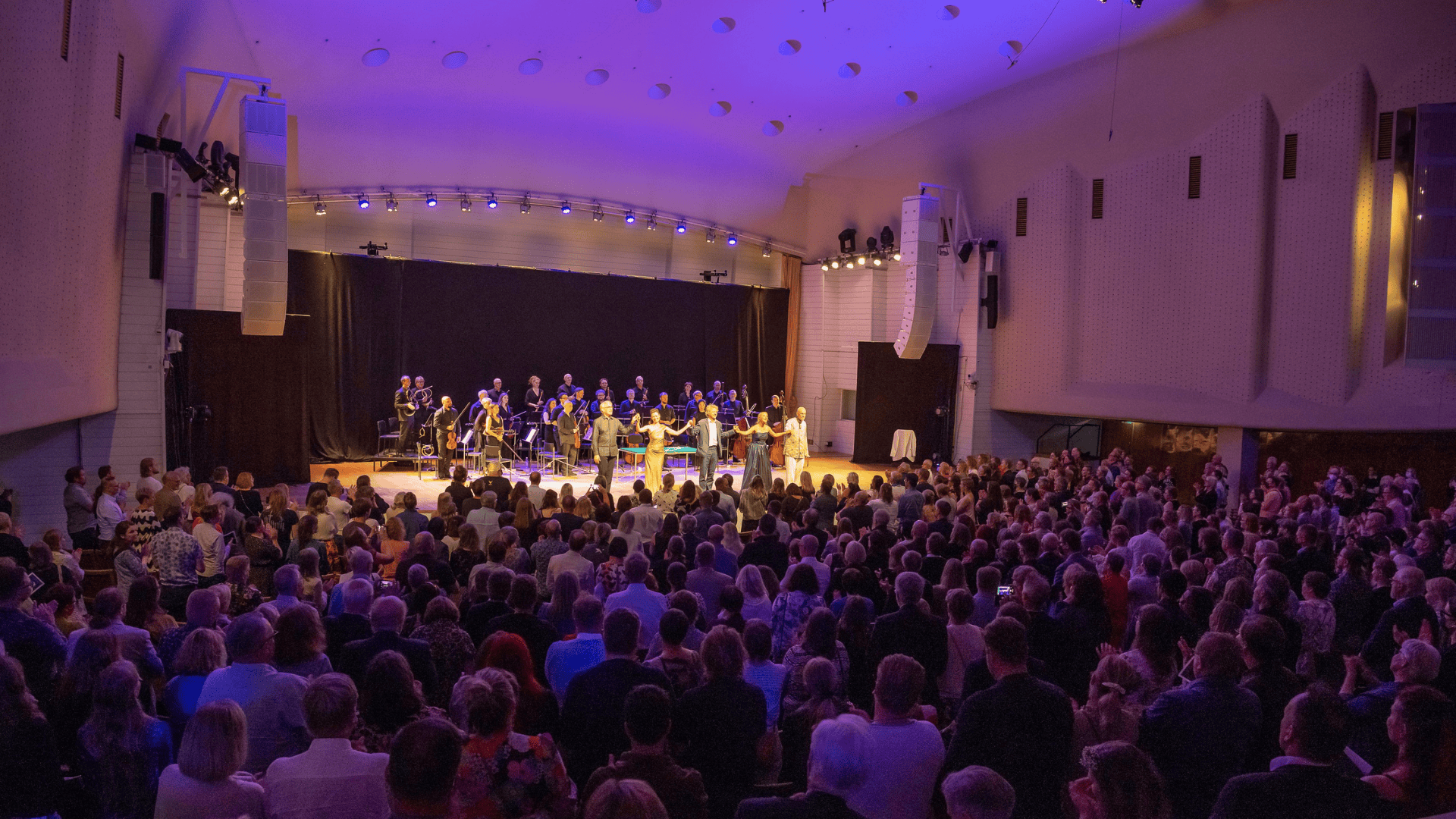 The main event of the Turku Music Festival in 2023 takes place from 10 to 24 August. Klaus Mäkelä, who was Artistic Director of the Festival from 2019 to 2022, was not able to realise all his plans because of the pandemic, and some of the concerts he envisioned are being brought to the stage in 2023. Much of our programme for 2023 consists of novel ventures and concerts jointly planned by the Festival with a variety of artists and other partners.
Mon 6 Feb 2023 at 19.00. Music in the Cathedral: Tatu Kauppinen & David Munk-Nielsen
Tatu Kauppinen, winner and audience favourite of the 2022 Turku Cello Competition, and David Munk-Nielsen, winner of the 2021 Tampere Piano Competition, appear at the opening concert of the week-long Music in the Cathedral event. They have previously worked together, and here they present a programme of music by Mendelssohn, Kodály and Shostakovich.
Mon 6 Feb 2023 at 19.00 Turku Cathedral
TATU KAUPPINEN & DAVID MUNK-NIELSEN
Programme:
Felix Mendelssohn: Sonata no. 2 in D major op. 57
Zoltán Kodály: Adagio
Dmitri Shostakovich: Sonata for cello and piano in D minor op. 40
Duration 55 min, no interval.
Fri 10 Feb at 18.00 Irina Björklund and Haikus for Humanity
How can we make a contribution to the history of our planet and to humanity in our everyday lives? In September 2022, Irina Björklund published a book entitled Haikuja ihmiskunnalle [Haikus for Humanity, Viisas Elämä 2022]. It is a response to Sir David Attenborough's eye-opener, One Planet, One Life, which changed Björklund's life and made her mindful of her personal responsibility for our planet and for humanity. The concert features musical extracts from the book, released on the eco-disc Plant a Seed, and songs on the theme of peace from the disc Barely Ann-Mari.
After the concert (at 20.00), author Irina Björklund and photographer Janne Haavisto attend a book sale and signing session and discuss the themes of the book on stage at the Concert Hall with Member of Parliament Saara-Sofia Sirén, Chair of the Turku Music Festival Foundation. Concert tickets include admission to the discussion, which lasts about 30 minutes.
Proceeds from sales of the book and the disc are contributed to the Finnish Natural Heritage Foundation and go towards planting trees through One Tree Planted. Proceeds from sales of the disc Barely Ann-Mari go towards the international peace efforts of the CMI – Martti Ahtisaari Peace Foundation.
Fri 10 Feb 2023 at 18.00 Concert Hall
IRINA BJÖRKLUND: HAIKUS FOR HUMANITY
Duration 2 h, one interval.
Sun 19 Mar 2023 at 17.00 Jukka Perko & Virtuosi di Kuhmo – Kaanaanmaa
Twenty years ago, Jukka Perko and the Virtuosi di Kuhmo recorded an album of popular hymn tunes titled Kaanaanmaa [Land of Canaan, EMI Blue Note] in Turku. The disc resonated profoundly with Finnish listeners and went gold. Now these arrangements can be heard live at Turku Cathedral. The concert is jointly organised with Turku diaconal services.
Sun 19 Mar 2023 at 17.00 Turku Cathedral
JUKKA PERKO & VIRTUOSI DI KUHMO: KAANANMAA [LAND OF CANAAN]
Programme:
1.Suojelusenkeli (Maan korvessa kulkevi lapsosen tie) (P.J. Hannikainen, sov./arr. Pekka Pohjola)
2.Jumala ompi linnamme (trad.: Saksa/ Germany, sov./arr. Pekka Pohjola)
3.Minä vaivainen, vain mato matkamies maan (trad., sov./arr. Esa Onttonen)
4.Nyt maailman ahdistavan (trad., sov./arr. Severi Pyysalo)
5.Sinuhun turvaan Jumala (trad., sov./arr. Jukka Linkola)
6.Mua siipeis suojaan kätke (trad.: Ruotsi/ Sweden, sov./arr. Jukka Linkola)
7.Kaanaanmaa (trad., sov./arr. Severi Pyysalo)
8.Herraa hyvää kiittäkää (Heinrich Albert, sov./arr. Arttu Takalo)
9.Oi, muistatko vielä sen virren (Oskar Merikanto, sov./arr. Pekka Pohjola)
Duration 1 h, no interval.
Interim Managing Director appointed for the Turku Music Festival Foundation for 2023
Liisa Ketomäki, Managing Director of the Turku Music Festival Foundation, is taking family leave from the end of October. The Board of Directors of the Foundation has appointed Laura Päiviö-Häkämies PhD to serve as interim Managing Director. She is currently Principal Lecturer in Cultural Management at the Humak University of Applied Sciences. She is widely networked in Southwest Finland and also elsewhere in the country, besides having a wide range of international contacts. Her previous appointments include Head of Education with the Mynämäki local authority, Head of Culture and Events in Kotka, Managing Director of Kotkan Meripäivät Oy, General Secretary of the Tall Ships' Race, general secretary in an international organisation and project manager in a number of international projects.
"The Turku Music Festival is at an interesting juncture as an organisation. We are pleased to have Laura leading our dynamic team next year and to help us execute our strategy," say Chair Saara-Sofia Sirén and Deputy Chair Laura Rantanen of the Board of Directors.
They list as the strengths of Päiviö-Häkämies her management experience, her networks, her financial management expertise and her background in development work and internationalisation. The Board of Directors were unanimous in their appointment decision.
***
Further information and interview requests concerning the appointment process of the interim Managing Director:
Chair of the Board of Directors of the Turku Music Festival Foundation, Saara-Sofia Sirén, tel.: 0505132051, e-mail saara-sofia.siren@eduskunta.fi